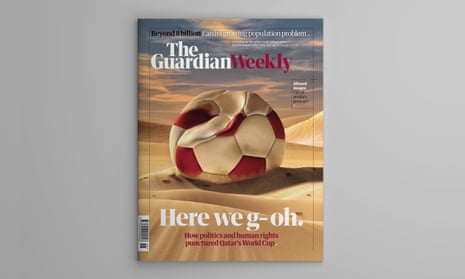 The Guardian Weekly – November 18, 2022 issue:
Qatar's World Cup of Woe
Ordinarily a football World Cup would be a moment for celebration, a time to savour sport's power to unite nations and a glorious distraction from the problems of the day. Not this time: the 2022 tournament has been mired in controversy since it was awarded to Qatar 12 years ago.
Another dubious global milestone was reached this week as the world's population passed 8 billion, according to UN estimates. In a the first of a series of dispatches from the frontline of population growth, Hannah Ellis-Petersen reports from India, which next year will overtake China as the planet's most populous nation, on what the shift means for the world.
The US midterm elections saw the Democrats fare better than expected, retaining control of the Senate despite looking likely to lose control of the House by a small margin to the Republicans. The more consequential outcome may be for Donald Trump: Chris McGreal and David Smith ask if the former president's grip on the GOP is weakening, and if his rival Ron DeSantis's time may be coming.