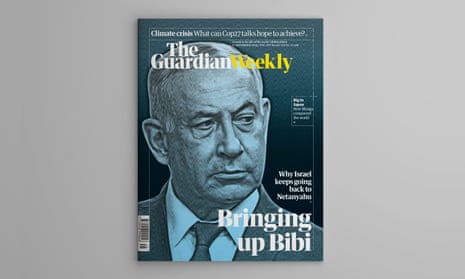 The Guardian Weekly, November 11, 2022:
Benjamin Netanyahu is nothing if not a fighter. Having been ousted as Israel's prime minister a year ago by an alliance of political foes and now embroiled in a corruption trial (he denies all charges), one might have thought the 73-year-old's career was up.
The Cop27 climate talks got under way in Egypt, as debate raged over the agenda as well as a furore over hosting the event in a country where political and human rights are a live issue. Environment editor Fiona Harvey explains what the talks – which run until 18 November – can hope to achieve, amid a slew of alarming reports about the rate of global heating.
This week's magazine went to press too soon to feature news of the US midterm elections – there'll be plenty on that in the next edition. In the meantime, Leyland Cecco reports from Canada, where there are claims China is operating a chain of clandestine police stations to keep tabs on its diaspora.