After nearly 60 years as a hotel, this former home of the poet Alfred, Lord Tennyson has been triumphantly restored as a house museum. John Goodall reports; photography by Paul Highnam.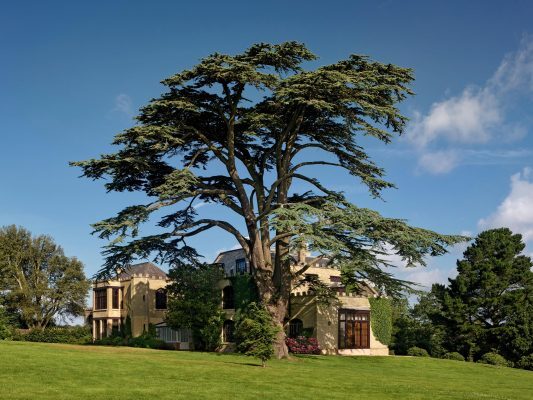 On January 21, 1884, the poet laureate Alfred Tennyson was elevated to the peerage as Baron of Aldworth, Surrey, and of Freshwater on the Isle of Wight. As the editor of The Complete Peerage (1896) primly commented when recording this exceptional accolade, 'the assumption of two places in different counties (more especially when the estate possessed is inconsiderable), cannot be commended'. Tennyson, however, would not have cared. Indeed, he had refused the offer of baronetcy four times and was only finally persuaded to accept it by his friend, the then Prime Minister, William Gladstone.
Tennyson chose this unusual title because — unconventionally for the period — he had houses in both places that he considered to be homes. Aldworth, which he generally occupied in the summer months, was a retreat from his house at Freshwater. This latter building, known as Farringford, was sold by the family in the 1940s and thereafter became a hotel. Returned back into private ownership in 2007, it has now undergone a renaissance at the hands of a Tennyson scholar, who has turned it into both a home and a house museum to the poet.
In the years immediately following his marriage in 1850, Tennyson and his wife, Emily, actively searched for a place to live. They heard from friends about a family house at Freshwater, on the north-western extreme of the Isle of Wight. Following a slightly depressing first viewing by Tennyson — then aged 44 — the couple came back together. An account of their visit in November 1853 is given in Emily's journal. Travelling by train to Brockenhurst — where the railway line then ended — they caught an omnibus to Lymington and crossed on a still evening from the mainland in a rowing boat.
Emily was delighted by the house, which enjoyed an expansive prospect along almost the whole Hampshire coastline, and 'looking from the drawing-room window, thought "I must have that view", and so I said to him when alone. So accordingly we agreed… to take the place furnished for a time on trial with the option of purchasing'.
Read more at Country Life Magazine: https://ift.tt/l9zibWL