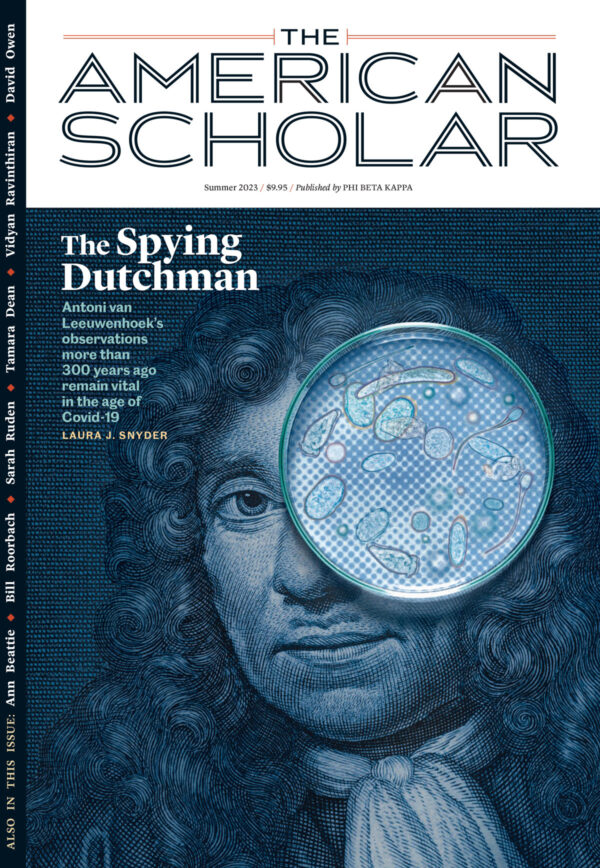 THE AMERICAN SCHOLAR – SUMMER 2023 issue: What does Antoni van Leeuwenhoek have to do with Covid? Can a digital restoration of a supposed da Vinci be just as good as the real thing? What was it like to be a young journalist on one of François Truffaut's sets?
Antoni van Leeuwenhoek's discovery of microorganisms made possible the revolutionary advances in biology and medicine that continue to inform our Covid age
One night in 1677, a grizzled man in a wrinkled linen nightshirt rushed from his bemused wife's bed with a candle in hand to examine the "remains of conjugal coitus, immediately after ejaculation before six beats of the pulse." Using the candle to cast a pool of light in his dark study, he put a drop of the liquid into a tiny glass vial he had blown himself, attaching it to the back of a strange-looking device he had also constructed.
What a digital restoration of the most expensive painting ever sold tells us about beauty, authenticity, and the fragility of existence
I got the call late on a summer afternoon. Yanai Segal, an artist I've known for years, asked me whether I'd heard of the Salvator Mundi—the painting attributed to Leonardo da Vinci that was lost for more than two centuries before resurfacing in New Orleans in 2005. I told him that I'd heard something of the story but that I didn't remember the details. He had recently undertaken a project related to the painting, he said, and wanted to tell me about it. I was eager to hear more, but first I needed to remind myself of the basic facts. We agreed to speak again soon.