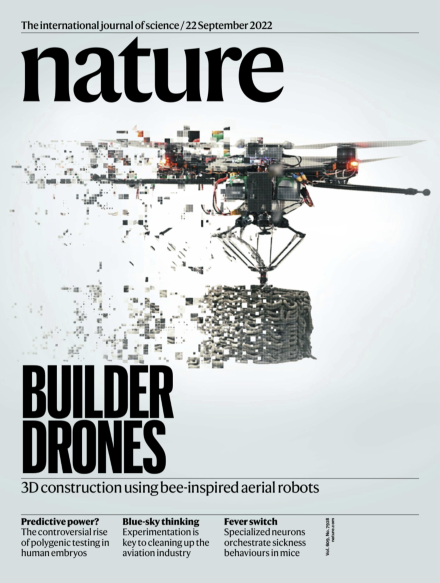 Scientists identify a neuronal pathway in rats that drives 'social grooming', a behaviour that helps to hold animal communities together.
As high-level winds shift, heat and heavy rain can persist.
Crystalline device could be used to visualize voltages with high resolution, speed and stability.
The trees that provide the raw material for chocolate have a higher yield when the groves are accessible to certain species.
A family tree of sea cows suggests that the dugong traversed an ocean to reach its present habitat.
Builder drones
Ground-based robots have potential for helping in the construction industry, but they are limited by their height. In this week's issue, Mirko Kovac, Robert Stuart-Smith and their colleagues introduce highly manoeuvrable aerial robots that can perform additive 3D construction tasks. Inspired by natural builders such as wasps and bees, the researchers created BuilDrones (as shown on the cover) that can work in an autonomous team to perform 3D printing tasks using foam- or cement-based materials. They also created ScanDrones to assess the quality of the structures
being built. The team hopes that this approach of 'aerial additive manufacturing' could help to build structures in difficult to access areas.