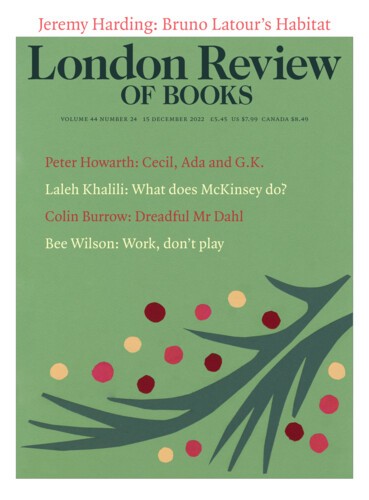 London Review of Books (LRB) – December 15, 2022:
When McKinsey Comes to Town: The Hidden Influence of the World's Most Powerful Consulting Firm by Walt Bogdanich and Michael Forsythe.
The primary product sold by all management consultants – both software developers and strategic organisers – is the theology of capital. This holds that workers are expendable. They can be replaced by machines, or by harder-working employees grateful they weren't let go in the last round of redundancies. Managers are necessary to the functioning of corporations – or universities, or non-profit organisations – and the more of them the better.
Writing about the press by Andrew O'Hagan, Ross McKibbin, Jenny Diski, James Meek, Suzanne Moore, Mary-Kay Wilmers, Alan Rusbridger, Thomas Nagel and Raymond Williams.