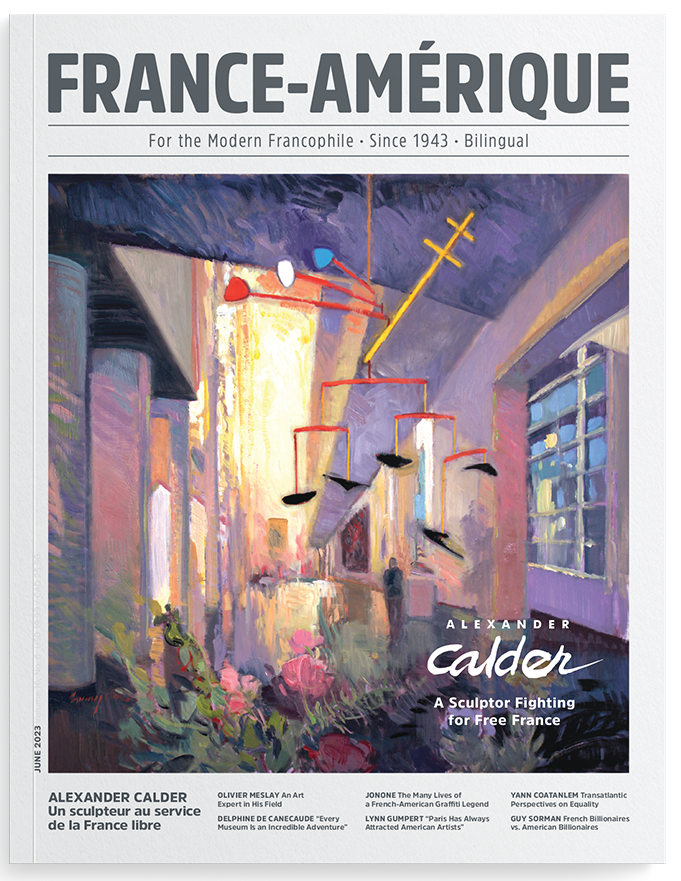 France-Amérique Magazine – June 2023 – The issue explores the art world on both sides of the Atlantic Ocean! First, read how American sculptor Alexander Calder produced a mobile to support Free France during World War II – this is our cover story.
LYNN GUMPERT – "Paris Has Always Attracted American Artists"
By Guy Sorman
A book co-edited by Lynn Gumpert, director of the Grey Art Gallery at NYU, is shaking up preconceptions about the contribution of American artists in France following World War II. We asked her about this little-known period, when Paris was still as much a hub of artistic creativity as New York City.
Also in this issue, discover the little-known contribution of American artists in 1950s France; read our interview with Delphine de Canecaude of Chargeurs Museum Studio, the French company that has outfitted many of America's largest museums; and enjoy our profiles of Clark Art Institute director Olivier Meslay and French-American graffiti legend John "JonOne" Perello.
DELPHINE DE CANECAUDE
By Guénola Pellen
"Every Museum Is an Incredible Adventure"
The dynamic fortysomething was hired to run Chargeurs Museum Studio in February. As the world leader in cultural engineering and production, the French company has designed the National Museum of the U.S. Army, the National Museum of African American History and Culture, and the new wing of the American Museum of Natural History, which recently opened in New York City.