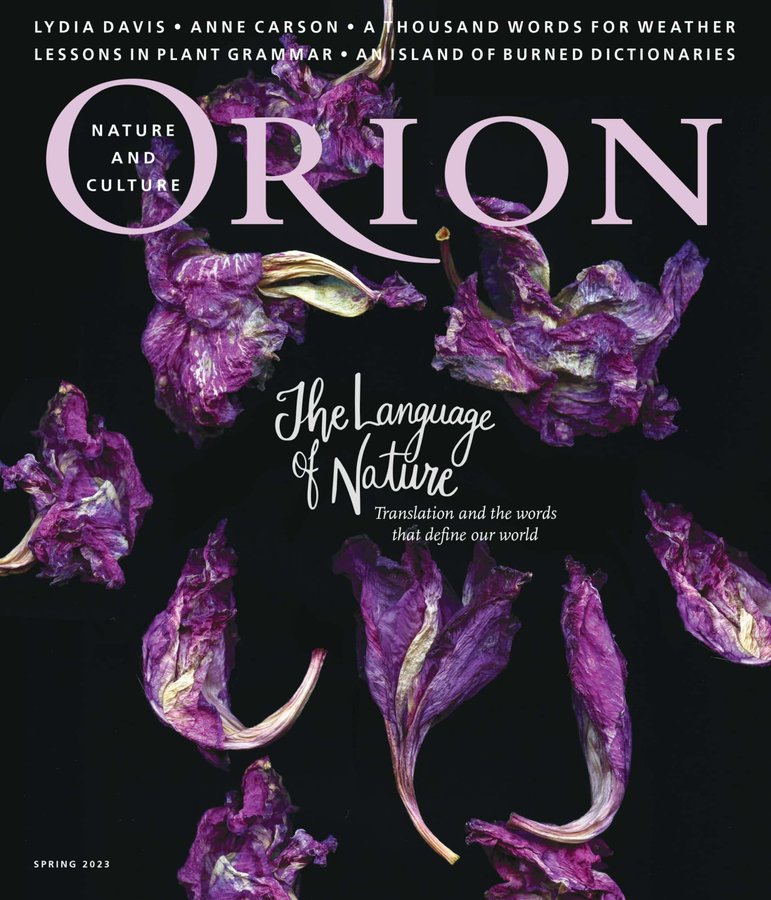 Orion Magazine (Spring 2023) – THIS ISSUE features exclusively works in or about translation, engaging with over twenty-five languages across six continents.
Passages from a deconstructed homeland
The Northern Mariana Islands lie in a crescent moon south-southeast of Japan. At the lower point is Guåhan, also known as Guam, an island that is geologically part of the same volcanic chain but that set itself apart by becoming an unincorporated U.S. territory instead of remaining part of the Commonwealth.
On a body filled by the Amazon
BANZEIRO—THIS IS WHAT THE PEOPLE of the Xingu call places where the river grows savage. Where, if you're lucky, you can make it through; where, if you're not, you can't. It is a place of danger between where you're coming from and where you want to go.
Our Spring 2023 issue speaks to the language of nature and features works in or about translation. Here, Orion staffers and friends pulled together a list of their favorite fiction and nonfiction books that in some way reflect this literature of etymology.
Farrar, Straus and Giroux
This slim fantastical novel reads like an incantation. Set in rural late-19th century Iceland, its braided, lyrical, fugue-like narrative is tender and electric. Here we find a cruel priest named after a monster, trapped in an ice cave, raving at a dead fox. But too, a kindly herbalist burying his friend with her feather collection—a young woman with Down syndrome who spoke a language of her own—who he rescued from an unthinkable fate. This was my first encounter reading Sjón, who is apparently so big in his home country he doesn't need a last name, but the book's otherworldliness made perfect sense when I learned he writes lyrics for Björk. This one will haunt me for a while.
By LULU MILLER
Simon and Schuster
In Lulu Miller's Why Fish Don't Exist, naming becomes an imposition, an attempt at order and, sometimes, hierarchy. In this book—part memoir, part biography—Miller is searching for a reason to keep living, a sense of order in a chaotic world, and she does so by looking to a taxonomist who spent his life naming the creatures under the sea: David Starr Jordan.